Saiko Shihan Sid Tadrist, 8th Dan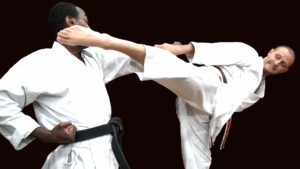 Sensei Sid Tadrist is the KWF HQ Japan International supervisor and KWF chief instructor in the UK. He has been teaching traditional Karate at ISH, International Students House Dojo.
Taking the best of his experience he developed his unique style of 'Dynamic Karate', with the emphasis on bringing the strength and speed of his students to their highest level. The traditional Karate he teaches is the authentic form of Karate, and most effective for the purpose of self defence. Sensei Developed SDS ( Self Defence Strategy ) programme for CPO as a study  module.
He has over thirty years of Karate expertise, having trained and taught Karate in Japan and around the world. He is still engaged in hosting international seminars and world-class competitions.
Sensei Tadrist is a very experienced competitor, he has many awards nationally  and internationally,  recently the 2015 World Champion in Japan. He is officially qualified in Japan, holding the qualifications of A level Instructor, A level Judge and A level Examiner.
All dedicated instructors sharing the same path of teaching dynamic karate. Their dedication and loyalty make them excellent mentors in assisting others to learn and developing this authentic art. Karate can be an excellent discipline for self-defense, physical fitness, and personal growth.
          Private sessions
Sensei teaches private sessions to instructors and beginners.
You can attend his private dojo or classes in London.
Training programme design to suite your needs.
Accommodation available if required.